Dealerphobia; it's a condition many people will experience after their car's warranty runs out. You know something is wrong with your car, but you're afraid to bring your car into the dealership because of the high cost of auto repairs. Quite often, backyard mechanics will try to fix a problem by replacing suspect parts without actually verifying the source of the issue, spending time and money replacing parts unnecessarily, and never fixing the problem.
Dave Gopie and the team at Islington Village Automotive have been treating dealerphobia since 1987. If you need car repair or auto repair services in Toronto and Etobicoke, don't let your dealerphobia prevent you from accessing a good mechanic. Bring your car into Islington Village Automotive for low price car repair and low cost auto repair and diagnosis that won't break the bank.
If your car is already running great, we would be happy to help you with basic car repair. Islington Village Automotive does a visual inspection and check of all vital fluids, along with checking tire pressures with every oil change.
Bring your car into Islington Village Automotive for a low-cost diagnosis and a fairly-priced repair if it's not running well. Bring your car in for regular oil changes and maintenance to help keep your car running strong. In any event, if you need a good mechanic in Toronto and Etobicoke for car repair and auto repair service, come to Islington Village Automotive.
So, if you're searching for quality low price auto repair or car repair, Toronto's best is Islington Village Automotive. Call 416-239-4500 for the best low cost auto repair service in Toronto and Etobicoke to book appointment.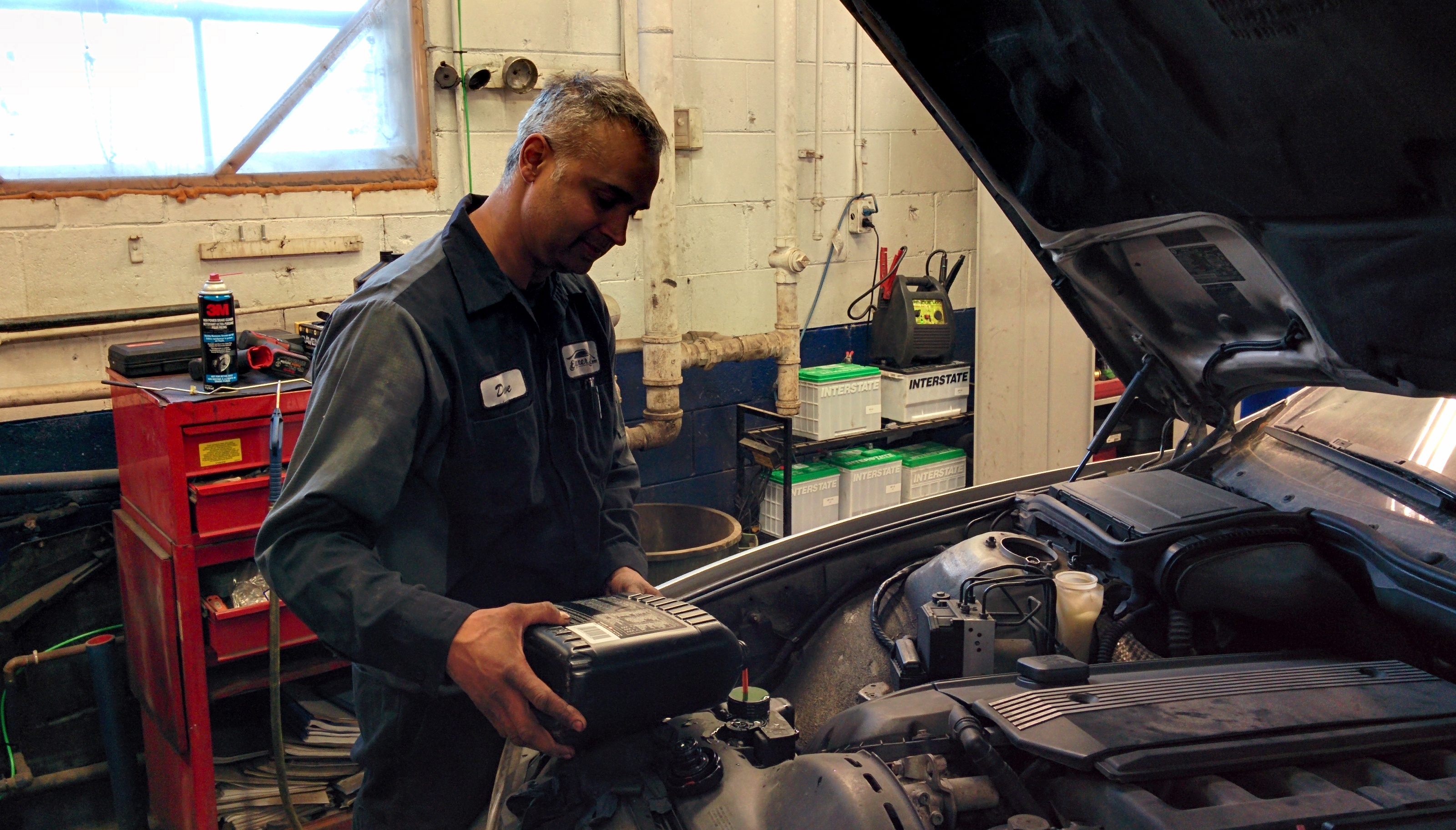 Here's what some of our customers on Facebook have to say about Islington Village Automotive:
"Best place in Etobicoke to take care of your car!" – Robert Morrison, Toronto
"John and David have been taking care of my vintage cars collection for years, honesty and professionalism guaranteed. My friends are using them too, they never let us down. 5 stars service." Yves Bovin, Toronto
"Dave and his crew are the best! As Germans we didn't really know where to go for a safety and emission check in Toronto. We first heard about "Islington Village" through a facebook traveller group. With little knowledge about cars and the procedure, Dave explained to us every small detail that we needed to know. Dave and his team helped us so much and found a solution for every problem that we had with our car. ..and the price was very good aswell" -Lucia Brandt, Toronto
"As a female car owner, it's my nature to be suspicious of mechanics so I asked my knowledgeable and wise friend Jan to recommend someone. Without hesitation, she suggested I call Dave as both him and the previous owner provided her with good, trustworthy service at a reasonable price. I brought my car in, explained the situation to Lonny and he took it for a drive. He dropped a bombshell on me when he said that he felt that there were NO ISSUES. However, for peace of mind, he offered to take the wheels off and double-check that nothing was wrong. I decided to go that route and brought it back the next day. This time Dave took it out and he was of the same opinion as Lonny. Still, he did examine it further and there was a minor concern which, my bad, for missing that part of the maintenance. I can't explain in detail what the issue was as I felt Lonny was speaking another language (something about rotors and calipers) but, bottom line, they fixed it for a very reasonable price. Another thing I should mention is that they will be holding a seminar/session called "Her Car", which teaches women how to perform some basic car maintenance.I cannot say enough good things about these guys – five stars all the way!" -Tracy Cho-Yee, Toronto
"I'm a new female car owner – to a mechanic/garage that probably equals dollar signs. I first heard about Dave through word of mouth and then decided to go to his "Her Mechanic" workshop. I was impressed, but thought going somewhere closer to home (Brampton) made more sense and so I did; for a simple tire change which turned into a tire balancing issue, which turned into an alignment issue. I won't bore you with the details of how brilliant Canadian Tire's customer service was (Not.), but I would like to make a clear point with this post (as I usually don't actually get to writing reviews). Besides being a knowledgeable and honest mechanic, Dave is a remarkable person. In a very short period of time, he has me convinced that mine and all of my friends' cars would be in good hands if they were taken to Islington Village Automotive. With my latest car issue, Dave scheduled an appointment in a timely manner, took the time to explain and show me what was wrong with my car tires and did a test drive before AND after fixing the issue. If this isn't excellent customer service, I don't know what is. Highly recommended!" – Saniya Dang, Brampton
"Dave and his crew are "salt of the Earth" kind of people, they really are. Technicians who know their trade inside and out, and who obviously LOVE what they do and, here's the thing: who (not what) they are doing it for – i.e. their customers (not just big $$$). They deserve to prosper, and I am sure they will – but it won't be by pulling wool over anyone's eyes or fleecing the ill-informed. I attended the "Her Car" workshop tonight (fun and informative). Dave ended it by saying that for those of us in attendance who were not yet customers, he would be happy to service their cars; but he also said (!) "to those of you who are happy with your current mechanic, please stay there". WOW! This was (also) a marketing event, and the guy who paid for it just said, please, stay with the competition if you are happy there. Dave = skill, integrity and generosity rolled into one heck of a great guy. I am so glad I followed my friend Jo's advice a few years ago and came here. Come to Islington Village Automotive. You won't be disappointed." -Gabrielle David, Etobicoke
If you'd like to see more, check out our 5-star reviews on Yelp, too!