Islington Village Automotive now offers headlight refinishing to keep your car looking great, and driving safely at night.
Driving safely at night requires maximizing your visibility. Luckily, modern cars are equipped with advanced headlight systems that produce 2-3 times more light output than conventional sealed beam headlights. Modern projector beam headlights are often built with a polycarbonate outer lense cover.
Polycarbonate is chip and crack resistant, and allows automotive designers the freedom to design headlights in whatever shape they can imagine. Unfortunately, they also become scratched and cloudy over time, looking bad, and reducing their light output.
Have your headlights seen better days?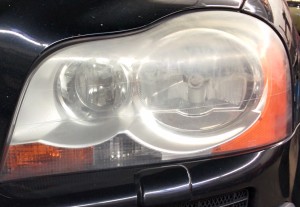 Islington Village Automotive can refinish your headlights to make them look like new, starting from $99.95.